Muscat de Beaumes de Venise
Natural sweet wine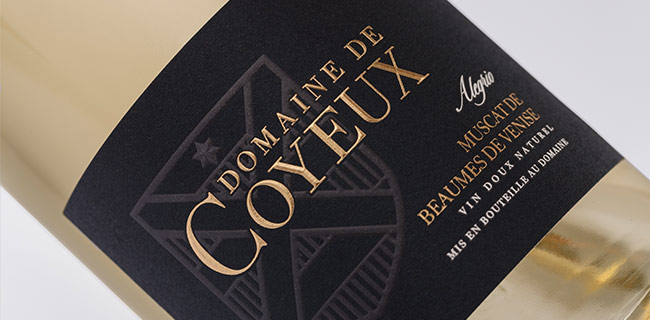 Jewel of the Domaine of Coyeux, Muscat de Beaumes de Venise is produced on various contiguous plots, grouped together on 42 hectares. The production is in the range of 25 hl/hectare. The oldest vines will soon be 65 years old.
Each year the Domaine of Coyeux produces approximately 140,000 bottles of sweet Muscat wine.
A unique grape variety: Muscat petit grain, « The vine of the bees », as it was called by the Romans.
This grape variety possesses the characteristic of splitting itself into two varieties, one with black berries and the other with golden berries. Regardless of their color, these two sub-varieties produce sweet muscat wine.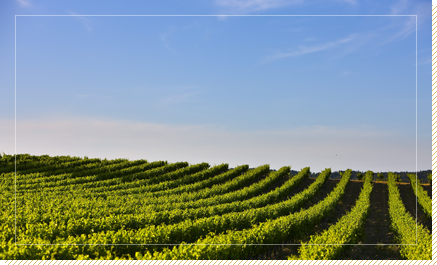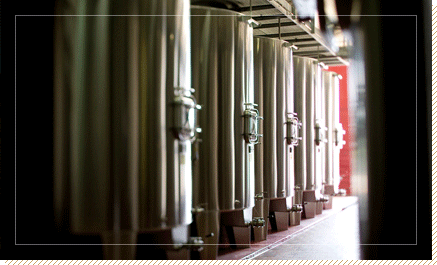 Harvested by hand, sorted and put in crates to avoid crushing the berries and for their oxidation, the grape is sent at regular intervals to the cellar. Again sorted on tables provided for this purpose, it is destalked before being pressed.
Converted to "must", it is then immediately transferred to stainless steel vats. These vats, cradles of fermentation, are thermo-regulated at low temperatures (4° to 6° C) in order to preserve the extraction of aromas. The fermentation process usually lasts two to four weeks.
When the time comes, fermentation is blocked by the addition of alcohol to the residue (must) so as to obtain a wine with an alcoholic content of about 15% in volume and a concentration of 110 grams per liter of residual sugar. Different vintages are made according to the plots of land, the age of the vines, and the maturity of the grapes.
The blending of the vintages is performed at the end of winter.
The Domaine of Coyeux is famous for the exceptional freshness of its Muscat.
This uniqueness is related to its rare soil and its meticulous wine-making process.
The raising of naturally sweet Muscat wines includes an aging period of a few months, in stainless steel vats at a constant temperature, to which is added a second period of 6 to 8 months in the bottle. This second period releases other more subtle flavors for the pleasure of connoisseurs.
The sweet Muscat wine produced by the Domaine of Coyeux is often doubly appreciated:
– Young (one to two years), a stage characterized by a balance between the expression of the fruit, the delicacy, and the freshness. The flavors of citrus, white peach, and exotic fruit are dominant.
– After that, a shift starts en route to the expression of the grape-growing conditions of the vineyard and the specific aromas derived as the wine ages in the bottle. The initial flavors leave, little by little, giving way to the flavors of spices and candied fruits
Muscat sweet wine should be served chilled (6° to 8° C).
In addition to serving as a nice aperitif, it perfectly accompanies your meals:
Appetizer: melons, foie gras, and warm oysters.
Cheese: blue-veined cheeses (Roquefort, Stilton…)
Dessert: coffee cakes, red fruit gratins, pineapple puff pastries with raspberry coulis.